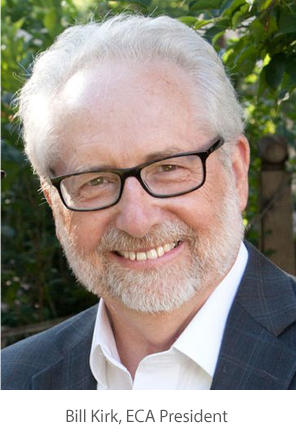 I'm Bill Kirk, the new President of the Edgemont Community Association (ECA). I served in 2019, and previously for over 12 years as a Director, yet I have evaded Presidential responsibility up to now!
My first duty is giving credit to the 2019 ECA Board members of the last term. Retiring during the year were John Wither, Julia Benson and Glenda Marr; and retiring after the AGM were First VP Stefan Zanon and President Paul Clark. I would like to thank them all for their contributions and wish them well.
This message will try very hard NOT to mention a global issue of which we are all thoroughly fed up; however, fallout from that event caused dramatic results in our own community. Significantly, the ECA held our first virtual AGM on June 24th! Thanks to the large number of Edgemont residents who attended online. While nothing can substitute for neighbours meeting, the key items on the AGM agenda were accomplished so the work of your new community Board has continued since the last week in June!
All of the Directors completing the first year of their terms have returned for the second year and thank you all for hanging in there to do ECA work! In addition to these experienced members, the ECA Board was extremely gratified to have 5 new members join the Board where they immediately brought a boost of energy and enthusiasm. A thumbnail sketch cannot possibly do them justice but here goes:
Pam Wilson, resident 24 years. A retired CEO of the Association of Alberta Registry Agents and her own company managing not-for-profit trade/industry associations, Pam is experienced in policy development, strategic planning and board/staff relations, to name a few.
Anil Garg, resident 14 years. With 8 year's experience as a board and executive member for non-profit organizations and a volunteer with charitable, cultural, and professional organizations, Anil is experienced in project management, board governance and strategic planning.
Min Cao, resident 10 ten years with husband and 4 children. Min has volunteered in her children's schools and is a Controller for a major company where she supervises a group of professional accountants concerning a very large corporate budget.
Scott Thompson, resident 10 years. A Professional Engineer working and volunteering in both the industry and community, Scott has chaired conference committees and brings experience in coordinating volunteers and events; most recently, the John Laurie Park playground project.
Vishal K Dalal, resident 4 years, is a Supply Chain Professional, B. Science and a Post Grad in Business Administration. Vishal works with the Supply Chain in all its stages, from production to retail, and has extensive experience with ERP Installations (Adidas, Enmax).
Welcome to these new Directors. It will be a pleasure to do the hard, and the enjoyable, work for the ECA!
Key tasks for the new Board are to administer the deep effects on the ECA budget from closure of the Edgemont Community Center (ECC) and the painstakingly critical steps to safely re-open. This editorial is written about a month before publication, so I hope you have already heard good things about the work of the many ECC staff and volunteers in successfully and safely reopening our beautiful facility! Rick Wierzbicki has been the first, among equals, in coordinating the many conflicting, changeable and onerous dictates concerning this process. His dedication deserves our thanks.
Once we can safely meet as a community, we will hold a Special General Meeting (SGM) to update the Bylaws. Only 1 Bylaw was changed at the last AGM to allow the ECA flexibility in banking. About 30 more bylaw changes are already posted on the ECA website and recent events show the need for a few more. Formalizing the ability to have an Electronic AGM, for one!
See you at the ECC!