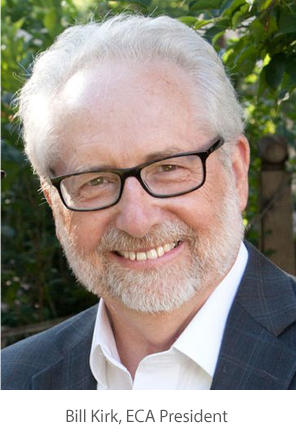 Sad news to report that Edgemont has lost another friend and long serving volunteer. Linda Connolly passed away 28 March 2021. Words cannot adequately express the loss to our community. Please read Linda's biography later in these pages. I know Linda would want us to carry on supporting the causes and the people she loved, and we will, it is just hard.
AGM! AGM! By now you will have seen the annual general meeting notices throughout the community and seen reminders in the newsletter and on the web page. The Bylaws require that members be active one month prior to an AGM in order to vote. If your membership is less than 30 days old, you can participate, just not vote this time. We sure want to exceed the 40 Members quorum requirement. Every Membership (household) has a maximum of two votes.
I reluctantly accept that not everyone is a Governance Nerd. Inevitably, however, into every life some Bylaws must fall. Your ECA Board fulfilled the Bylaw review requirement with an extensive review at the turn of 2019/2020. About 30 changes, some large and some small, were proposed to the current set. These proposed changes are rapidly being put into our new Website, so please look them up! Rest assured, the current Bylaws are adequate to immediate needs, however, some time in the 2021 future, where people can once again congregate, it is hoped the ECA can have a Special General Meeting (SGM) to address and make the needed amendments and then ratify the changes to amend ECA Bylaws. Sounds easy, right?!
Now, if you were paying attention, you can surmise from the dates of ECA's last Bylaw review that the Board (or ANY Board for that matter!) hadn't yet met our new friend, COVID-19! ECA is constituted under the Societies Act (SA) of Alberta. The Bylaws of any associations under the SA were not ready for Physical Distancing. You might say that AGMs are legislative hallmarks of the social nature of humans requiring, for example, physical signing in, show-of-hand votes, and so on. In March of 2020, Service Alberta, which administers the Society's Act, scrambled to create temporary legislation that allowed online AGM's because Albertans could not meet face to face. That covered our ECA AGM in 2020 but the Legislation automatically lapsed August of 2020. A new Bill is just now proposed, #53, and is specifically created to change the Societies (and many other) Act(s) to enshrine electronic meetings in all legislation that governs associations, companies, and other organizations. When passed, the proposed legislation will be retroactive to August 15, 2020 however, as the new legislation proposal is only beginning its pathway through the legislature, it will likely still be being debated at the time of the Edgemont AGM. With the distinct possibility that Bill 53 will not yet be law, a key proposal at the outset of the 2021 AGM will be that the membership of the ECA ratifies conduct of an AGM by electronic means. If you got through this paragraph without re-reading, and especially if you looked up bill 53, please contact me to join the Governance Committee!
In any event, please make it a point to register to attend the Virtual AGM to hear all the work that has been done to maintain our Community Center, rink and programs through a really tough year. There are some remarkable good news stories to enjoy and a lot of appreciation to shower on ECA's amazing Staff, Volunteers and Directors. Register at www.edgemont.ab.ca.
Many of you may already have toured ECA's new Website. I would like to extend ECA's thanks, on behalf of the Membership, Board and residents of Edgemont, to Laura Ballerini and Adile Abbadi-MacIntosh of BluBrown Communications for supporting Elspeth Kirk's Communications Committee through the design, creation and launching of a new level of community communication in Edgemont!
A friend of mine was asked if he liked the mountain vista just to the West of his property. He said, "Not really; they just get in the way of the view." A true Prairie boy, no doubt, but it goes to show that there are many aspects of natural beauty to consider. That story is a lead into the City initiative to plant over 100,000 trees this year to build up the "Urban Forest" of Calgary. This is part of the City's program to capture carbon, reduce traffic noise and beautify Calgary. Two sites close to Edgemont are being considered: one on the slopes of the hill rising from the intersection of John Laurie Blvd and Sarcee Trail (The NE of the corner of that intersection) and the other is on the West side of Shaganappi Trail, immediately South of Edgemont Blvd and across from Nose Hill. Both sites are on sloped terrain, so the view of each area will only be marginally affected for a considerable period of time, as the trees fight to establish themselves. It's the old story here: "How do you get some trees in Calgary?" "Start with a lot of trees!" ECA will do everything possible to ensure that the initiative is explained fully to nearby residents.
The Community Cleanup This Month! 15 May at the ECC, 9 AM to 2 PM. Check details in Jeff Edwards 'Volunteer' Article. We missed last year so twice the fun this year.
Trucks! With FOOD! May 27 between 3 to 7 PM at ECC there will be a convoy of Food Trucks. The parking lot will be arranged so we can physically distance and still enjoy the variety offered by these unique establishments.
Watch this space! Winter training in July – ECA has a remarkable event coming up at the ECC. It is called the Nordic Rodeo. You can use some of the training tools that Olympic Biathlon and Ski Jump athletes use to develop their skills. There will be laser rifle target shooting, Cross Country roller skis and a ski jump simulator to test your accuracy, stamina and fortitude (in that order, I think!). Sponsored by Ski Jump Canada and Biathlon Canada; this is certain to be a fun event!
There are communities that date back to the turn of the previous century so it often seems that Edgemont is really young. We are, however, building our own history as a community, too. As a case in point, last month (April) Friends Cappuccino Bar & Bake Shop passed the quarter century landmark! On behalf of the ECA Board it is a pleasure to thank and congratulate Margie for her consistent support and contribution to the ECA, as well as her dedicated service to the Edgemont Community.
Happy Mother's Day to all of you celebrating this month in Edgemont!
Bill Kirk